Top 10 Instagram Post Ideas To Promote Your eCommerce Business
Instagram is one of the most popular social media platforms. According to a report, there were 144,080,000 Instagram users in India in January 2021. People aged 18 to 24 were the largest user group. This means that most of your potential customers are on the platform, and you need to make a consistent effort to shine in their feeds. This is how you can attract maximum eyeballs and promote your products quickly.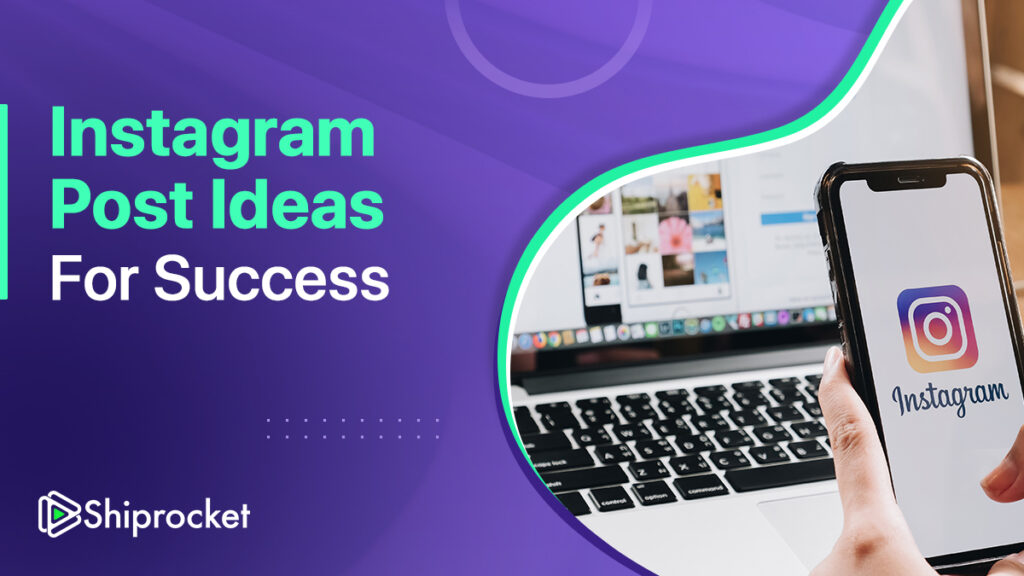 Every person you see today is hooked to their phone, scrolling through Instagram Reels or viewing their feed with different posts from celebrities, influencers, or brands. All brands today are strategizing to create stellar content on social media channels like Instagram to sell more products and improve the shopping experience for their customers. For example, making reels on trending audio is a big rage, and businesses utilize it to their advantage.
But if you are new to promoting your business on Instagram, it can be quite a struggle. Trends are changing almost every fortnight, and you cannot expect the same results from one type of post. Therefore, you need to keep experimenting and ensure that your brand's content stands out in design, storytelling, and context. It must connect with the buyer. The attention window is small. You need to do the most to capture it quickly.
Let's look at the different posts and Instagram post ideas for your business.
Types of Posts on Instagram
Static Posts
Static posts are single-image posts on Instagram. They appear on your profile as three pictures horizontally. You can utilize this pattern to create a big picture with every single post.
Stories
The next type of post on Instagram is Instagram stories. These stay on your profile for 24 hours and can be viewed by your followers. You can also promote your stories so that they reach your target audience.
Reels
Reels' latest addition to Instagram has taken the world of social media. Reels are short 15s, the 30s, or 60s videos.
Carousel Posts
These culminate in several single-image posts that can be viewed in a carousel format.
Now that the type of post has been explained on Instagram, there are several ideas that you can execute with the help of these posts and promote your business. Let's have a look at what they are.
Instagram Post Ideas For Your Business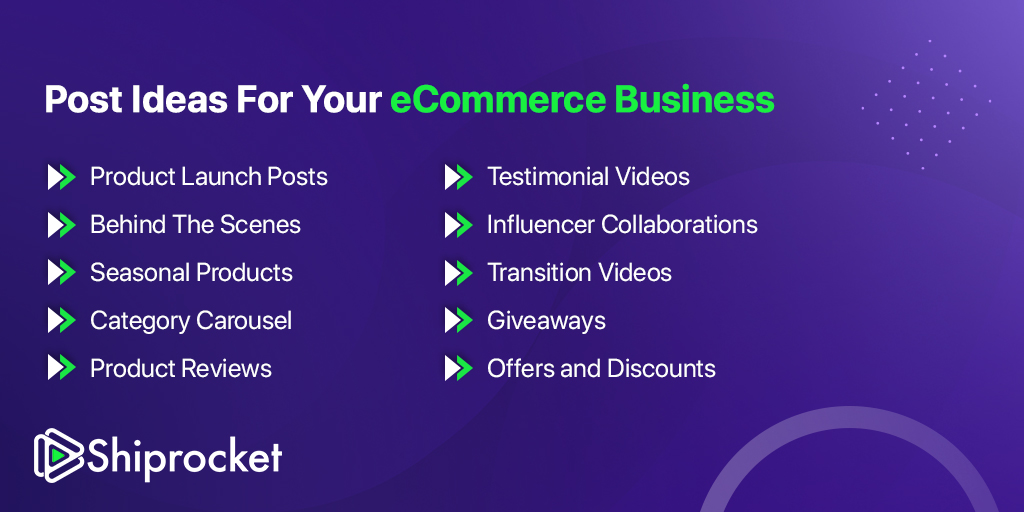 Product Launch Posts
If you are launching a new product or have something exciting in the pipeline, you can create a buzz on your Instagram profile with posts and a compelling product launch. You can do a series of static posts, including pre-buzz, launch posts, and feedback posts. Also, making reels for a product launch can be a great move. For example, before launching the chocolate spread by Epigamia, they did several posts and reels with Deepika Padukone to create excitement for their product.
Behind The Scenes
Doing behind-the-scenes posts is always fun and engaging for customers and viewers. It gives them a glimpse of your brand and the process, making it look real and organic. For example, if you are a clothing brand, you can show behind-the-scenes posts of the design, conceptualizations, and production to give the viewers a glance into the whole process.
Seasonal Products
several cosmetic and personal care brands have seasonal products that have a specific flavor, scent, etc., that is relevant to the season. You can use vibrant colors, themes, etc., to create that aura on your Instagram profile with the help of carousal and static image posts. Several skincare, body care, perfume, and fragrance brands do seasonal posts in summer to show the fruity sense and products that come with it.
Category Carousel
To promote your products, it is essential to categorize them to know what exactly they want to buy. Working on a category carousel can be just a thing. Collate products from one category and display them in one carousel post. This will help the customer give the whole category at once, and they will be able to make a purchase faster and speed up their decision-making process.
Product Reviews
Even with all the aesthetics to please customers, the reviews eventually work their wonders. External validation is always helpful for people who have used the product. Highlight product reviews from regular people to ensure that the products are displayed in the best light.
Testimonial Videos
The following way to promote your business on Instagram is by sharing testimonial videos. If you can get customers to record a video of them using the product and share it on your Instagram profile either on reels or even on your story, you can gain viewers' trust and convert them into customers much faster. The customer can tag you in their story and re-share it to make it look more authentic.
Influencer Collaborations
Influencers are the celebrities of Instagram. Millions of people follow them and trust their opinion about products and services. Collaborating with influencers and getting their honest reviews on products can help you connect with their audience and grow your base much faster. You can ask influencers to do candid Q&A sessions on their Instagram live or even share a simple static post.
Transition Videos
Most Instagram users are active on reels. It is best to create reels thrice a week and share them on your Instagram page. This can help you gain significant traction and increase your followers. Transition videos are viral today and enable your products in a quirky manner.
Giveaways
Running giveaways on your profile can be wise to get new followers and sell more products. You can probably give samples to customers who follow your page or get more people to follow it. Several influencers give it to giveaways, and you can utilize them to share your products in giveaways.
Offers and Discounts
Flash sales do wonders for your business. You can utilize your Instagram stories to run a flash sale and direct users to your website.
Final Thoughts
Instagram is a fun and engaging platform to connect with the youth and share your products. Utilizing aspects like Instagram shopping tags, Story links, etc., can help you increase conversions directly from the website. Utilize these Instagram post ideas to ensure maximum exposure and conversion.
Calculate Your Shipping Costs Now