5 Things to Keep in Mind When Purchasing eCommerce Packaging Online
Since packaging plays a vital role in the entire eCommerce fulfillment supply chain, it is essential that your packaging is sourced from the right place. If the packaging material is of poor quality, there is a big chance that this might impact your customer's delivery and product unboxing experience.
Today, there are many options available on the internet and otherwise, that give you a wide range of material that might be suitable for your products. But, you need to be aware of your requirements so that you can make an informed decision.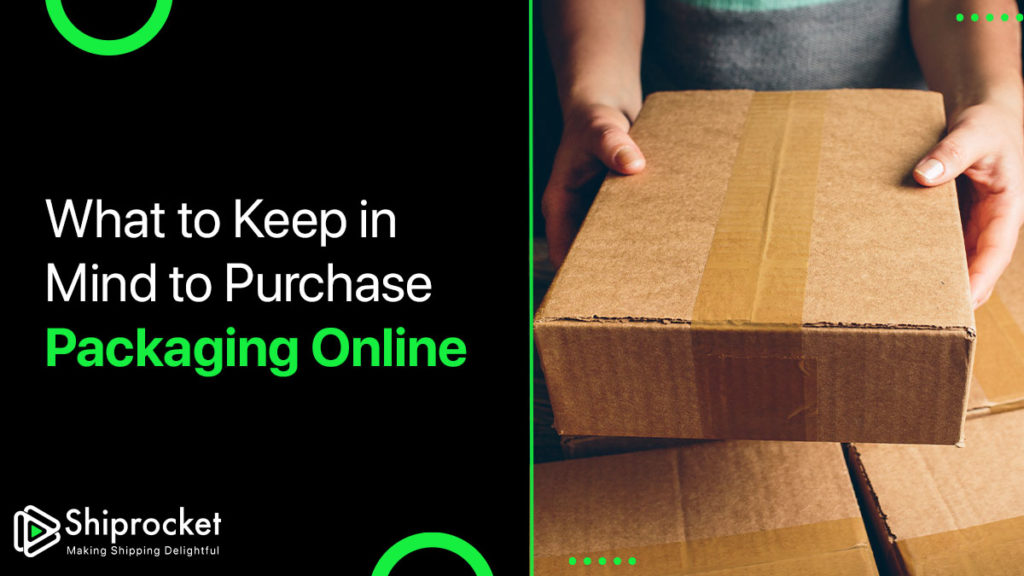 When you purchase packaging material from a retail or wholesale store, the experience is totally different. You get to feel the quality of the product, judge the strength of the material, and ask the retailer to give you a small demo of its qualities.
For instance, if you're buying flyers, you can ask them to show their tensile strength by stretching it.
Therefore, you can make decisions faster when you shop offline. But, the world is evolving rapidly. You no longer need to scout for the right material in between crowded wholesale shops. You have all the solutions online.
On the click of a button, you can find hundreds of packaging solutions online. These do not only provide you with standard packaging that is common, but they also have several options for branded packaging, where you can customize your packaging design to match your brand expectations to enhance the impact of delivery.
Why roam around the town when you can get things delivered at your doorstep?
But, even with all the convenience, there persists some difficulty around how you can select the right packaging materials and not compromise on quality. There is confusion about how the packaging material will turn out, its longevity, utility, and if it would serve the purpose of safety and branding.
Being concerned about returning the material if it isn't right is also a crucial aspect. Sellers usually forget to take into account the return policy when shopping online for packaging material. Along with that, shipping charges might also come as a surprise.
Therefore, when shopping for packaging material online, here are some things you should take into consideration.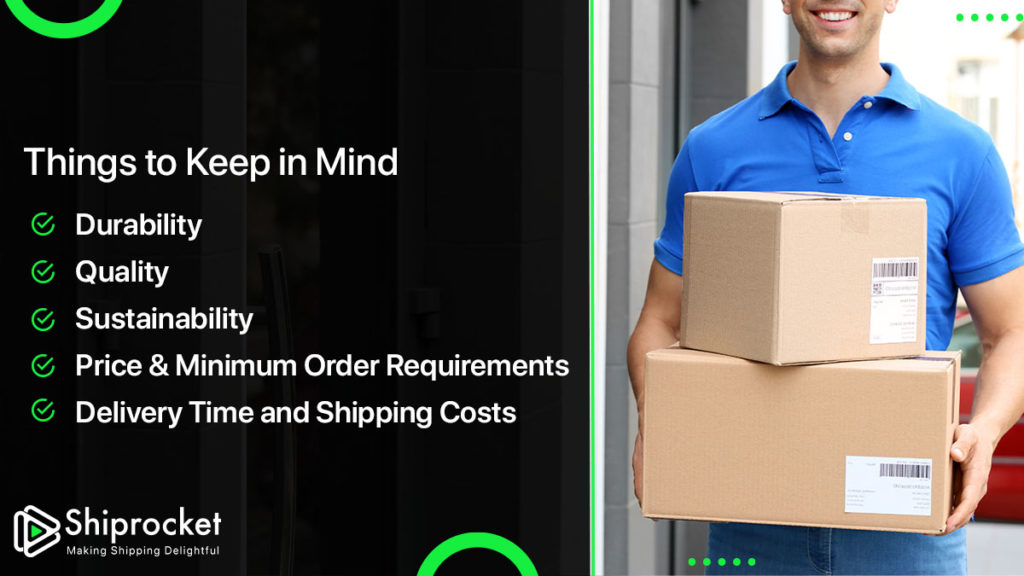 Durability
The most important quality to look out for when shopping online for packaging materials is its durability. Yes, even packaging materials have shelf lives. Since you do not purchase packaging material for only the near future, you must look at the shelf life or expiry date of the packaging material.
This is essential because, after this particular period, the material will start to wither and lose out on its strength & quality. If you use this packaging material, it can lead to damages on the way and also cause a loss to your product and put others at risk too.
Quality
When you're not shopping from the store, judging the quality of a product can be difficult. To make the process easier, there are real quality standards that you can take into account for purchasing packaging online. Let's have a look at some quality parameters of different packaging material.
Corrugated boxes
Corrugated boxes are the most commonly used secondary and tertiary packaging for eCommerce products. They come in several sizes, and there is no correct size. It entirely depends on your requirement.
According to a report by FICCI, cardboard products make up more than 30% of the packaging industry. Since they have a critical role in the transportation of the products and their safety, here are a few quality measures that you can check –
Grammage and Thickness
Grammage and thickness, define the density and depth of the corrugated package. Although there is no correct grammage or a standard number, grammage is essential to assess the box's rigidity.
Compression Strength
This parameter helps you analyze how well the material will sustain under pressure. This means how much weight it will be able to handle on top before cracking or leaking. It is essential to know this quality as the product will undergo pressure during shipping.
Burst Strength
Bursting strength is used to determine what exact weight box can carry when being roughly handled. It checks the toughness of the walls when they are subjected to pressure. This parameter is essential because you do not want to buy a product that does not match your product's weight. For example, a single wall corrugated box that can handle a weight up to 5 kgs, must have a burst strength of 55 pounds per square inch. Here are some references to get you started –
Flyers or Courier Bags
Tensile Strength
Tensile strength refers to the maximum amount of stress a material can take without damage when stretched. This test helps you determine the courier bag's strength as they expand when products are added to them. The tensile strength of a flyer that can accommodate up to 4 kg weight must be 32.5 mpa.
Seam Strength
The seam strength tells you about the load required to break a seam of the flyer. This means that it takes into account the strength of the edges glued or stuck together and how well they will be able to withstand stress. Since seams are the first to fall apart, this parameter can help you determine the quality of your material in the real sense. For example, a flyer that can accommodate 40 kg of weight must have a seam strength of 40 kg.
Sustainability
With climate change impacting almost every sector, it is essential to choose your packaging material carefully. Therefore, it is vital to select the material that is hundred percent recyclable and not cause much damage to the environment.
It is recommended that you utilize eco-friendly packaging, and these include biodegradable packaging material like starch-based packaging. These materials aren't readily available, and it will take some time before or complete the adoption of these materials.
However, do lookout for a hundred percent recyclable material, so you do not have to over-purchase for your packaging. Recycle the return products and packaging material and do not put it to waste easily.
Shiprocket Packaging offers you 100% recyclable flyers and corrugated boxes that are sustainable and environment-friendly. You can buy these to improve your shipping and delivery for your buyers. Buyers also feel a sense of pride when they associate with brands aware and responsible for the cause.
Price & Minimum Order Requirements
The next crucial factor to keep in mind while purchasing material online is the price of the products. It goes about saying that you will buy a wholesale amount of packaging for your business. Even if you ship ten orders a day, you will purchase material for the next six months.
Thus, you must make sure that you are not overpaying for the material. Conduct thorough research on the internet and talk to vendors to get a fair idea of the pricing. Don't let any random vendor scam you. With Shiprocket Packaging, you get a starting price of Rs. 513 for 100 courier bags. This means one courier bag starts at Rs. 5.13.
The next big catch is the minimum order requirements. Usually, websites give you a minimum order requirement before you can place an order. For example, if a company offers you a MOQ of 600 flyers and you want to purchase only 200 flyers, you will not be able to buy it.
You must look out for vendors that offer you no minimum order requirements for your purchase, like Shiprocket Packaging.
Delivery Time and Shipping Costs
Another aspect that you must keep in mind when purchasing packaging material online is the delivery time taken for delivering the product at your doorstep. If the vendor does not offer a quick turnaround time, it is entirely useless to wait for packaging.
Quick delivery time is also vital because, in case of emergencies, if you run out of packaging material, you must be able to rely on your partner to deliver the content in time.
A poor delivery performance with an extended delivery time can put your business at risk and cause a delay in shipping. If not, you might be overstocking material to compensate for the time.
Along with that, another essential aspect that you must look into is the shipping costs. Packaging material bought online is comparatively cheaper than that bought in store as the handling cost is cheaper. This is how vendors cut overheads and provide you a more reasonable price. If you end up paying as much shipping cost, there will be no use of shopping online for the material. Shiprocket packaging offers you free shipping on the purchase of their packaging material.
Therefore, carefully analyze to see which vendor perfectly fits your requirements, judge them based on their performance, and only purchase them.
Final Thoughts
Purchasing eCommerce packaging material online can be a game-changer for your business as it helps you streamline operations and carry out activities from the comfort of your home. But, it can also cause concerns if not dealt with intelligently. Take into consideration all aspects mentioned before you decide to purchase material online and thoroughly research to be sure!
Calculate Your Shipping Costs Now