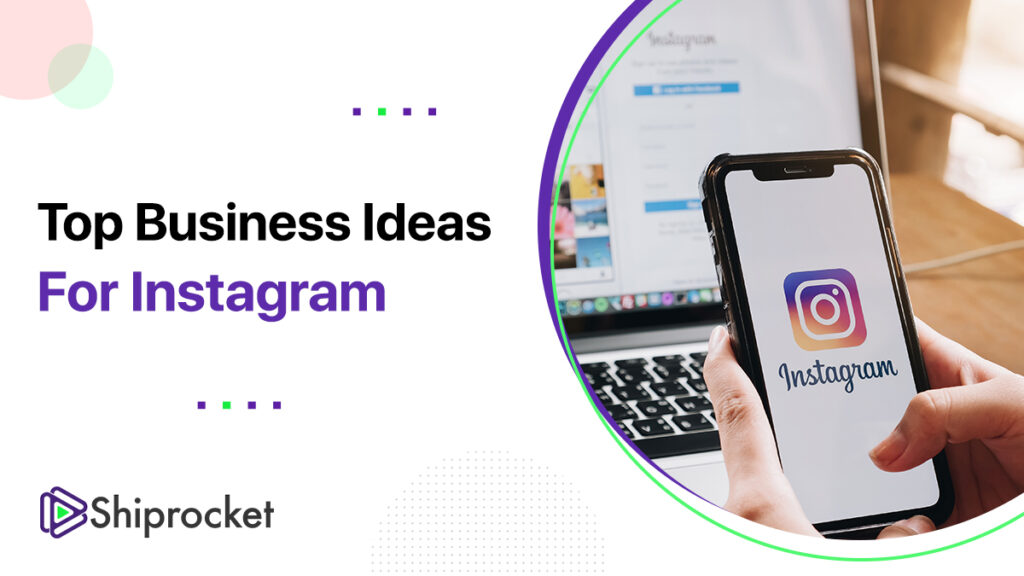 Many of us use Instagram to post about our lives and keep in touch with friends and family. The fact that you can use Instagram to launch a business and earn money—either as a side hustle or a full-time job—surprises a lot of people.
Instagram business ideas are not equivalent to marketing an already-established business on Instagram. Instead, Instagram businesses are run primarily (or, in some cases, entirely) on the social media platform. The social media platform is crucial to the company's success.
Instagram Business Ideas
If you are an expert on Instagram and are considering starting your own business, you might be prepared to try out one of these Instagram business ideas.
1. Influencer
It's possible that becoming an influencer is one of the first Instagram business ideas that crosses your thoughts. You must have a sizable, engaged following before you can become an Instagram influencer. The majority of Instagram influencers pick a topic about which they are passionate and cater their posts to that topic.
An Instagram influencer can earn money by promoting brands to their audience. Today, a lot of businesses pay bloggers to promote their products. We give influencers a portion of any sales earned using a unique code they distribute to their followers.
2. Instagram Manager
A person paid to manage another person's Instagram account is known as an Instagram manager. An Instagram manager can collaborate with a variety of clients and businesses to produce and publish content on Instagram that will increase their customer base.
3. Affiliate Marketing
Affiliate marketing is another option to use Instagram for business and earn money. You can write posts or stories on Instagram about certain things you use and enjoy. Following that, you may share those links via Instagram's shopping function or your Instagram bio.
4. Product Reviewer
For those who love to try new products or new technology, you can become a product reviewer on Instagram. When it comes to Instagram business ideas, this can be a very fun business.
An Instagram product reviewer usually specialises in a certain industry, testing the most recent products in that industry and giving their followers a frank assessment. By offering trustworthy, entertaining, and candid opinions, product reviewers build a following. Combination of these product reviews with affiliate marketing and you've got a money-making Instagram business idea.
5. Social Media Photographer
Become a social media photographer is one of the finest Instagram business concepts for photographers. with expertise in social media marketing and photography, you can create a business as a social media photographer.
In order to create material for their respective Instagram channels, social media photographers collaborate with other business owners on photoshoots.
6. Product photographer
Photographers can also start an Instagram business by taking product photos. Product photos are then used by the business selling the product to market it on their website and social media.
7. Stock photographer
What could be more advantageous than a flexible Instagram business plan? getting to work while travelling. You can travel and capture pictures that are marketed as stock photography. marketing agencies and websites that sell stock photography for a living.
8. Stylist
You might wish to work as a photo shoot stylist if you enjoy dressing up people and objects. You can offer the styling when a company requires images of their product, a business owner wants to look amazing in their photoshoot, or an influencer needs assistance with their image. The best part is that all you need to launch your business and display your talent is an Instagram account. As potential customers, you can also target other Instagram businesses.
9. Videographer
While Instagram has traditionally been mostly about images, the focus of the world is shifting to videos. Currently receiving a lot of attention, Instagram stories are a fantastic addition to any successful social media strategy. If you enjoy taking moving pictures, starting a video-focused Instagram business is right on time right now.
10. E-commerce seller on Instagram
There aren't many ventures that can make money more directly than e-commerce when it comes to Instagram business ideas. Recently, Instagram included a "purchase" button that enables product merchants to make direct sales on the app. Launching your store on Instagram will allow you to reach clients directly if you're interested in selling goods online.
11. Baking Or cooking expert
Post a photo of your leisure activity that helps you relax on Instagram. Instagram may be a terrific platform for teaching cooking and baking techniques to followers. You'll probably start earning money from sponsored content and affiliate marketing as your following increases.
12. DIY & craft expert
If you like DIY projects or crafting, you may share your knowledge through Instagram pictures and videos with followers who might also be working on projects.
13. Makeup Artist
Becoming a makeup artist is a fantastic Instagram business idea for those who prefer the visual arts. You can offer tutorials for a range of looks, from Festive special effects makeup to natural-looking makeup, and you can also offer your services for weddings or other special occasions.
14. Artist
Whether you work in any other artistic medium or are an illustrator, animator, sketch artist, painter, or clay artist, Instagram is the ideal location to showcase your work. launch your business.
Calculate Your Shipping Costs Now