What Are the Benefits of A/B Testing in Digital Marketing?
A/B testing, sometimes also referred to as split testing, is the process of comparing two versions of content, image, email, webpage, or other marketing collaterals to determine which performs better. You give each version to two different groups and see how they communicate with each variation. A/B testing helps to make an informed decision by letting you know which version works better among the customers.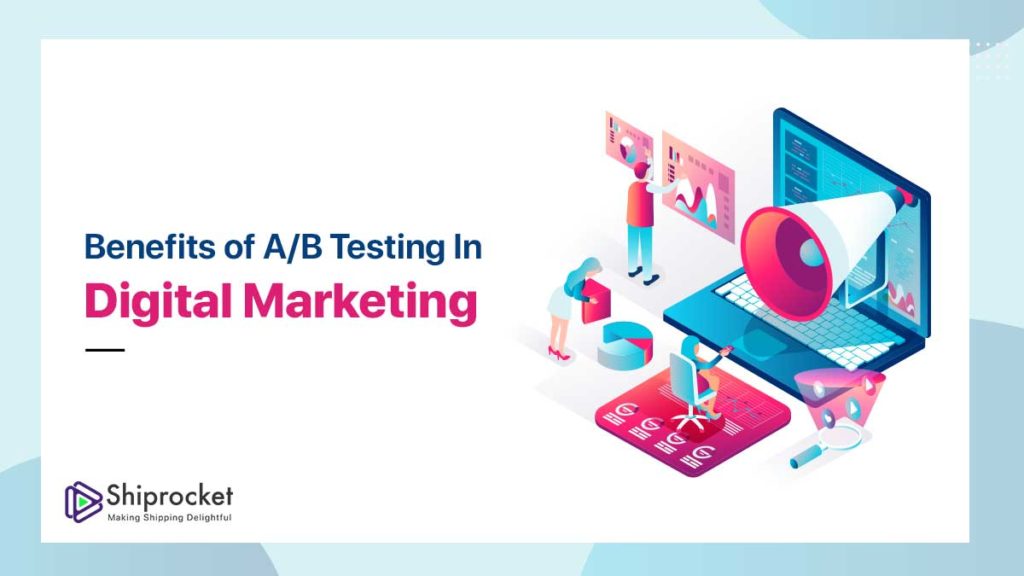 The process answers important business questions and helps generate more traffic, leads, and revenue.
How Does A/B Testing Work?
Let's understand the working of A/B testing with the help of an example.
Imagine you run an online women's jewellery store. For your website's landing page, you have designed two different pages. You want to know which page will perform better. Once you have created designs for both pages, next you can give one landing page to one group and the other version to another group.
Next, check which landing page performs better and has better metrics, such as clicks, traffic, and conversions.
What Is the Need for A/B Testing?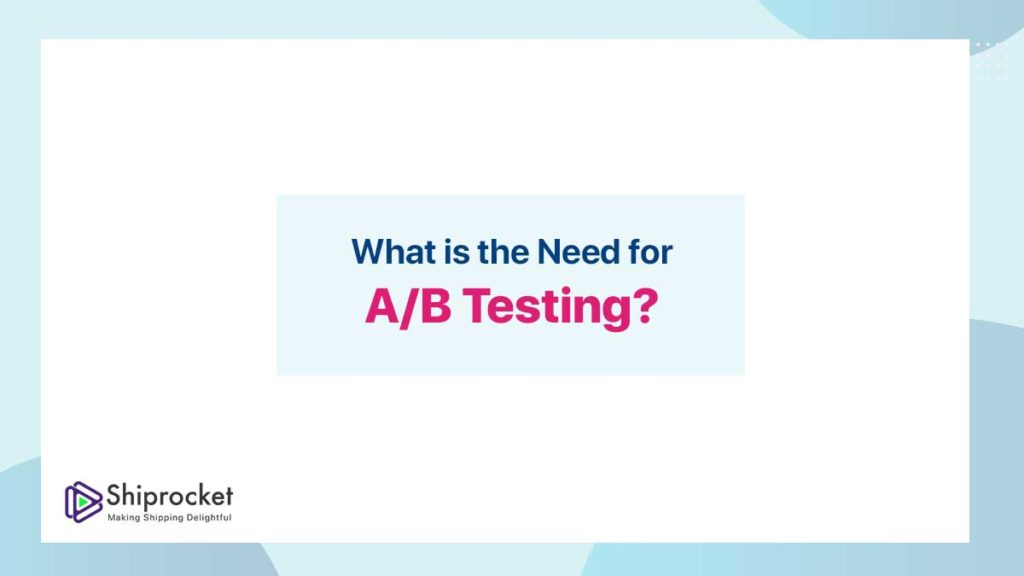 Creating a landing page, emailer or website is just the starting. Once you have created these, next you want to know what is hindering your sales. A/B testing helps you know which word, phrase, testimonial, image, or video is working best for your website. Even the slightest change in the webpage/emailer can impact the conversion rates significantly.
Split Testing VS A/B Testing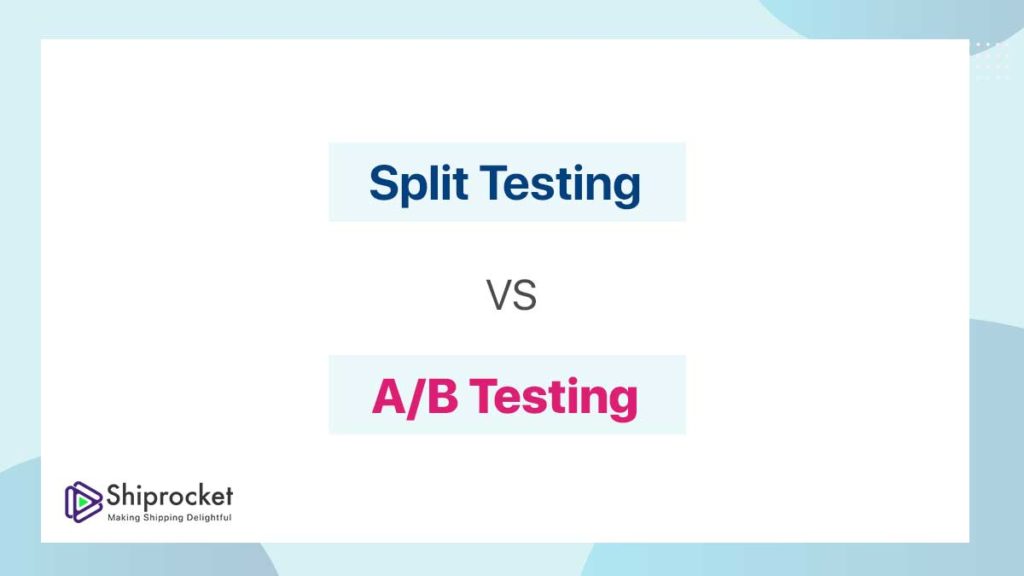 Many people often use split testing and A/B testing interchangeably. However, these two are completely different types of tests. In A/B testing, you compare two versions of marketing collateral based on only one changing element – CTA, image, video, etc. However, split testing involves comparing two different designs.
In essence, A/B testing is better as it lets know which element is contributing more. For instance, comparing two different versions of the same page won't let you know which particular element is performing better. You may be getting more traffic on a webpage due to the red-coloured CTA button. But you will not get to know about this in split testing.
Benefits of A/B Testing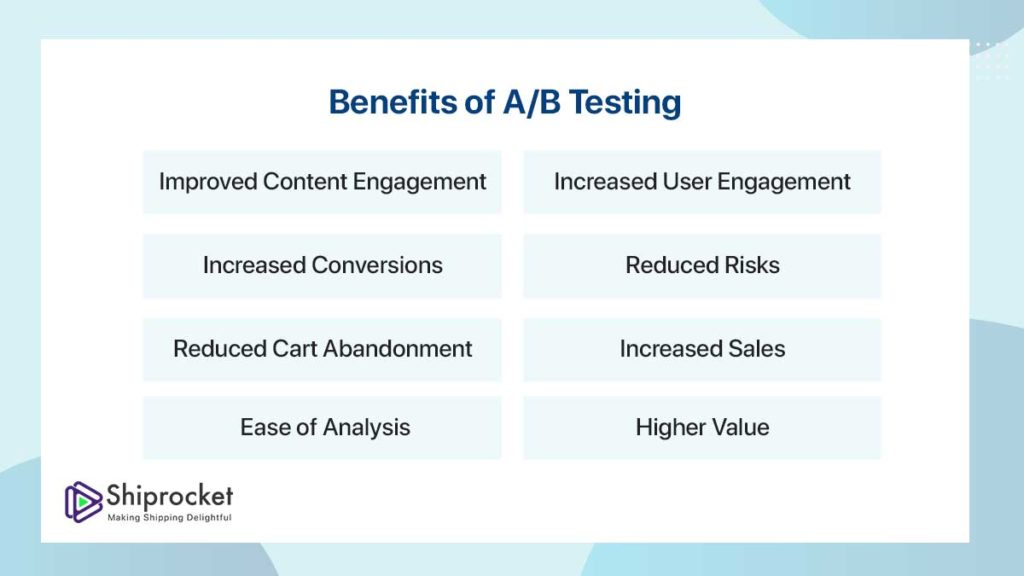 A/B testing is not only beneficial in knowing which element is performing better. It also helps in knowing what we need to prioritize in the future. Let's take a look at the benefits of A/B testing for your business:
Improved Content Engagement
Generating ideas is a difficult part of creating marketing collateral. But when you are in the process of A/B testing, you evaluate and test all the aspects of the content you create. This means you are creating and considering variables, and as you do that, you are also creating a list of potential improvements in your content. Consequently, the final version of the content comes better.
Increased User Engagement
You can A/B test everything, from different elements of a webpage or email to the headlines, subject line, CTA, language, fonts, or colours. Testing one element at a time will show which change affects users' behaviour. Updating the experience will improve user experience and reduce bounce rate.
When you put a lot of effort into creating a website, it is disheartening seeing users bouncing from the website without interacting with the content. Whether you tweak fonts or headlines, A/B testing can help reduce bounce rate.
Increased Conversions
A/B testing helps in creating content that converts visitors into buyers. When you craft two content versions for your campaign, it is easier to determine which is working better and which doesn't. A/B testing might be a time taking activity, but if you perform it properly, it will definitely help you convert more leads.
Reduced Risks
In some cases, making changes to your website can be a costly task. It can bring up costs. Here, A/B testing can help you examine customer behavior in advance and let you know whether you should go for the change or not. It tells you about the chances of success. Ensure you factor in holidays and other such external factors that can affect your results.
Reduced Cart Abandonment
Cart abandonment is one of the biggest problems for eCommerce businesses. Cart abandonment is the act of adding something to the cart and then not making a purchase. There is as such no reason for cart abandonment but tweaking a little bit of content on check-out pages can help find a combination that may help in reducing the cart abandonment rate. This may encourage your visitors to complete their orders.
Increased Sales
The most important benefit of A/B testing is an increase in sales. Reduced bounce rate, increased customer engagement rate and customer conversion rate lead to greater sales. A/B testing provides a better user experience which helps increase customers' trust in the brand. This, eventually, leads to creating loyal and repeat customers. This further helps in sales.
Ease of Analysis
One of the main benefits of A/B testing is it offers ease to analyze factual results. When you analyze data from the test, you can easily determine a better option with the help of straightforward metrics.
Higher Value
A/B testing also helps achieve higher values for the products and services. Once you find a design that is converting more visitors, you can perform more A/B tests on it to come up with a refined version to increase conversions for higher-priced products. You never know, with A/B testing and tweaking the content a little bit, you might find customers who are willing to buy expensive products that offer them more value.
How to Perform A/B Testing?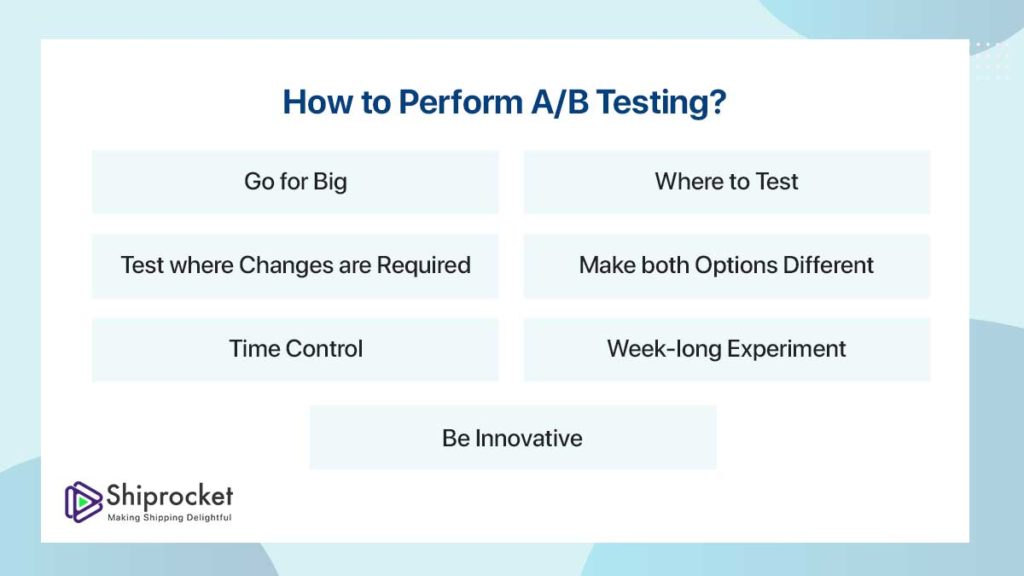 Test All Elements
Inculcate the culture of A/B testing all the important user experience elements that have a big impact on the customers. Change the landing page headlines, CTAs, fonts, images, or videos as per the test result.
Where to Test
Have a look at your sales funnel to determine where you are losing conversions. By focusing on your points in the sales funnel where you have the biggest drop-off, you can optimize the same to make the biggest impacts.
Test Where Changes Are Required
If it doesn't require, don't change it! If a page is offering a good conversion rate, don't change is unnecessary. Testing it can be an unnecessary task and a waste of time.
Make Both Options Different
A/B testing can help you choose one option only when the proposed change is noticeable from the original one. Just adding a comma isn't noticeable – the visitors aren't going to notice it.
Time Control
When you plan the experiment, there must be some elements that should be kept the same throughout the test. One such variable is the time period for which you run the test. Run both the variables for the same time and let the same user base see each version.
Week-Long Experiment
You must perform the test for at least a week to let enough visitors witness each variable. This will make sure you get accurate results for both dips and spikes during each day of the week.
Be Innovative
A/B testing can certainly bring you quick and positive results. But don't go for short-term success. Instead, look for real innovation which might also include some risks. Notably, paths that have the most risks often lead to better rewards.
The Final Say
A/B testing is one of the best ways of collecting useful information/reviews about your copy and design elements. Using it constantly on all websites may be fruitful. It helps come up with the ideal combinations that can help provide better experiences to the customers. It also helps in gaining customers' trust and confidence. And finally, when visitors begin to trust your brand, you witness an increase in sales and customer loyalty.
Calculate Your Shipping Costs Now