Conversational Commerce – The Future of Online Retail
The way customers shop today has tremendously changed since the advent of eCommerce. In its infant stages, customers only had a product listing to look at e before purchasing a product. Next, came elaborate descriptions and images. Now, the process is extremely personalized and is designed to mimic the off-line retail process.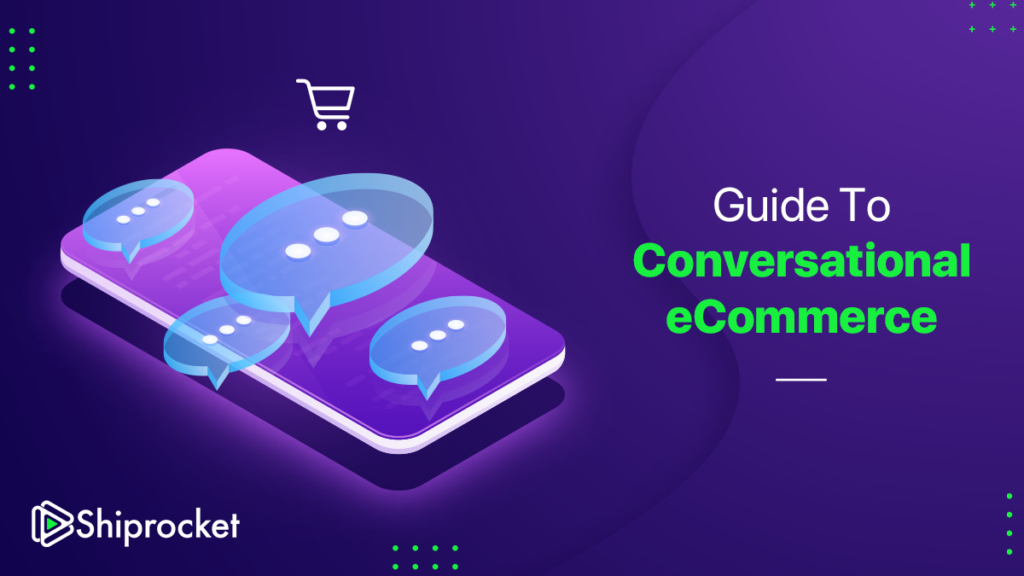 New trends are dominating the eCommerce landscape and we are headed towards the utilization of diverse technologies to help us understand the customer personas better. Since the approach is customer-first, your strategies must also align with this idea.
Conversational commerce is one such strategy designed to customize your buyer's shopping experience and make it more interactive. Let's take a look at its relevance for your business and the ways you can utilize it for your eCommerce retail strategy.
What is Conversational eCommerce?
Conversational eCommerce refers to the process of interacting with the customer while they make a purchase. This can be done with the help of AI-driven chatbots, messaging channels like Facebook, Whatsapp, Telegram, etc.
Did you know, India has over 400 million active Whatsapp users. This means that the platform keeps a majority of our population engaged. For this reason, incorporating the platform into your retail strategy can help you sell to many more individuals.
According to a report by smooch.io, 83% of consumers message businesses to learn about a product or service, 76% to receive – support, and 75% of buyers reach out to make a purchase.
On one hand, the use of these chatbots and instant messaging apps help you improve customer service. While on the other hand, build customer loyalty by providing them with personalized recommendations according to their requirements.
How does Conversational eCommerce Work?
The journey of any shopper encompasses several stages. It begins with awareness, followed by consideration to buy a product, leading on to research, comparison of alternatives, etc. It ends with the customer finally purchasing the product and is often followed by their delivery and post-purchase experience.
Conversational eCommerce can fit into every stage of a shopper's journey. Right from awareness, you can use the power of communication to strike better deals and sell seamlessly to your buyers. You can also use the practice to influence their purchase decisions.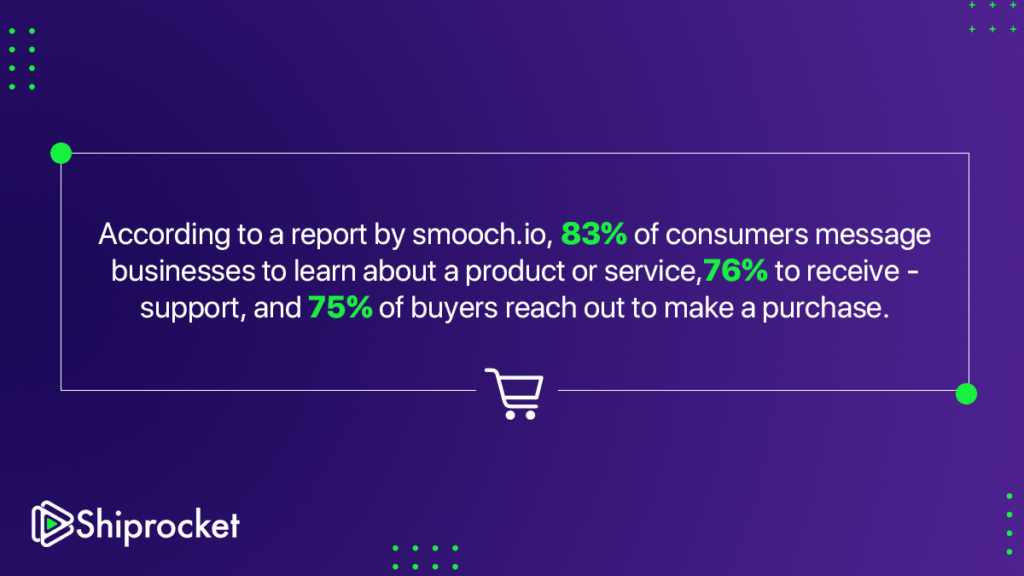 By incorporating live chats, voice assistants, etc. you can communicate with your buyer at every step of the way and actively engage with them. This practice will ensure that they do not migrate to other platforms for information.
For example, if you head to Samsung's website, you can see a small chat option at the bottom. Upon clicking this, you see further options such as I want to make a purchase, I know what I want to purchase, I need help with an existing product, etc. Such kind of interaction makes you feel like you are chatting with a real person.
Here is how you can use conversational eCommerce at every stage of the purchase process –
Awareness
When a customer lands on your website, you can ask them the details of the product they're looking for using a chatbot. Based on their requirements, showcase the relevant products on your website. This will help in easy navigation and finding the best-suited products.
Research
With the help of an AI-backed assistant, you can display the results in the form of a tabular representation. This will help them compare the products, gain insights and research their options without having to dig deep.
Consideration
When a customer shows interest in a product, the live assistant on your website can display offers relating to that product and help them make the final purchase.
Purchasing
You can simplify the process of purchasing by incorporating elements like Instagram shoppable tags and Whatsapp business into your strategy. This will simplify the purchase journey and the user will be able to make the transaction faster.
Post-Purchase
In the post-purchase stage, you can send regular tracking updates on WhatsApp or Facebook messenger along with SMS and email updates. A smart alternative would be to connect directly with the customer if they do not receive the product due to some reason. This will help you take faster action on the undelivered product and reattempt delivery.
Benefits of Conversational eCommerce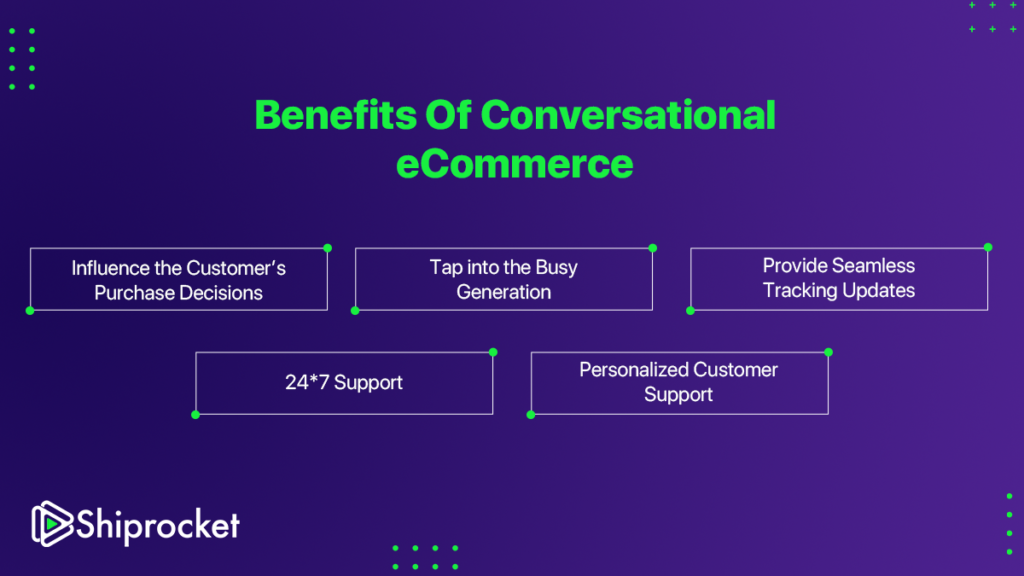 Influence the Customer's Purchase Decisions
Once users land onto your website looking for a particular product, you can engage with them with the help of chatbots or personal shopping assistants. You can inform them that you are available if they have any doubts and also show them relevant content like demos, product comparisons, etc.based on the inventory, and product information that you have.
Tap into the Busy Generation
Most individuals today are constantly hustling to achieve their goals . Millennials are switching jobs or working overtime, the Gen Z is busy earning money online, and the boomers are busy with their regular jobs. In other words, people don't have the time to conduct intensive research for purchasing a product. They will be thankful upon finding the right option for their requirement, without having to search through endless products listed on your website.
For example, if you sell tablets, millennials would like to have a comparison between four tablets that are trending without having to dig into the specifications of each one.
With the help of conversational eCommerce, a chatbot on your home screen, can help process this information and provide it to the customer.
Provide Seamless Tracking Updates
Integrate your website with instant messaging channels like Whatsapp and Facebook Messenger. You can send order tracking updates via these and also inform your customers about new offers, discounts, etc. since a large population is active on these direct messaging channels. Capitalizing on the fact that media often turns viral on these platforms you can also expect your customers to forward these among their circles.
Moreover, they can reach out to you sooner if they have any problems with the shipment or delivery and you can clarify their post-purchase queries conveniently.
24*7 Support
If it was an individual handling the support of your company, you would probably have to hire 2 to work double shifts since queries can also come in and at night. But with conversational eCommerce techniques and technologies, you can easily cater to queries all night day without having to employ a fresh resource for the same.
Of course, the human touch of support is extremely important. Therefore, you can use these bots to cater to the initial level complaints, and questions whereas individuals can look at the more complicated queries.
Personalized Customer Support
With the help of assistants and chatbots, you can provide customers with personalized customer support that caters to individual needs. Considering the amount of data available, you can provide relevant solutions to their queries and also help eliminate any confusion that the customer may have.
Another smart tactic would be to improve the customer's journey by providing them rich insights into the selection of best suited products for them. This can help your customers find valuable advice on your website and ensure a long term association with them. build a loyal customer base as they would know that they are getting the right advice on the website.
Final Thoughts
Conversational eCommerce is said to be the future of online retail as it brings together two very important components – eCommerce personalization and automation. Communication is the key to a successful deal and it can help remove any unwanted barriers. Therefore, with conversational eCommerce, you can successfully communicate with the buyer at every step of the journey and help them wherever they want. You can mimic the offline shopping experience of a personal shopping assistant and help customers make insightful decisions based on analyzed data.
Conversational commerce can be a tipping point for your business. Make sure you incorporate it in your retail strategy for the best results.
Calculate Your Shipping Costs Now