How To Leverage Pinterest For Growing Your eCommerce Business
Established in 2010, Pinterest has grown to be one of the most popular channels for sharing images, creative ideas, videos, GIFs, etc., in an organized fashion.
Initially, Pinterest was only popular among people interested in art, photography, or other creative avenues. But over time, this platform has gained a lot of popularity, and people from different segments utilize it to share information with individuals worldwide.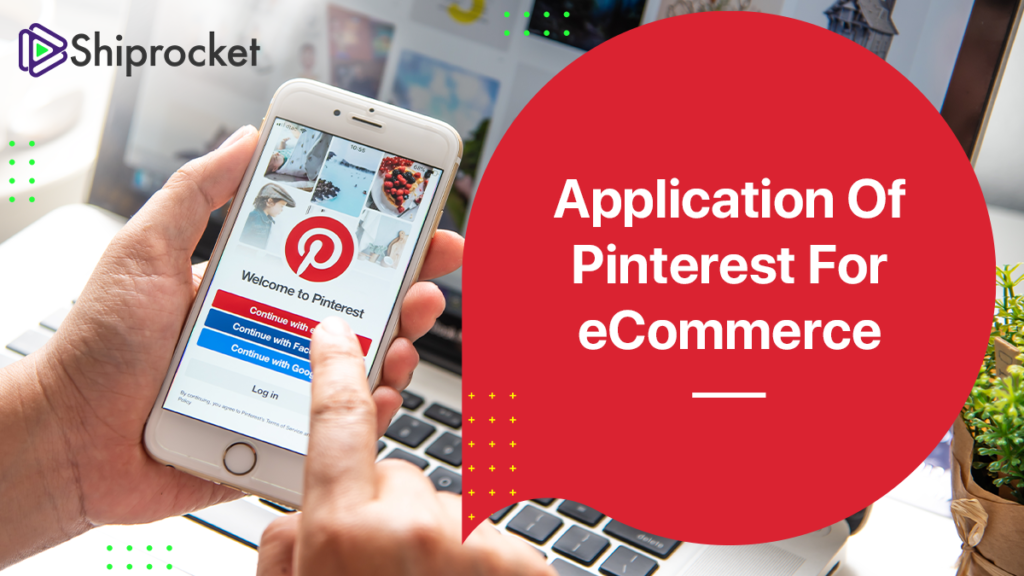 What is Pinterest?
If you have ever used the platform, you would know that you can share images about almost every subject. You can organize these into boards based on segments. It is like a massive billboard with various ideas or text pieces attached to it with pins if you visualize it.
So, in a nutshell, you can create various boards on Pinterest and add multiple images in the form of pins. These images can contain pictures of products, any information you might have, offers, coupon codes, etc.
The Application of Pinterest for eCommerce
The next big question that arises is, how can Pinterest be useful for an eCommerce business? When we speak of eCommerce, the first thing that comes to any buyer's mind is the products and their images. According to a report by Efelle creative, 75% of online shoppers rely on product photos when deciding on a potential purchase. Thus, you do not have an image of the product you are selling; it is tough to convince the buyer that the product is right for them.
With over three 320 million active monthly users, Pinterest is becoming an excellent platform for you to showcase your products with exciting pictures and useful hacks. Pinterest online shopping can become a thing for your business if you put good product pictures and utility.
Pinterest is usually a reference point for most users if they want creative ideas or inspiration for something they might be doing. It has users who are still in the discovery stage of their online shopping process and explore their options.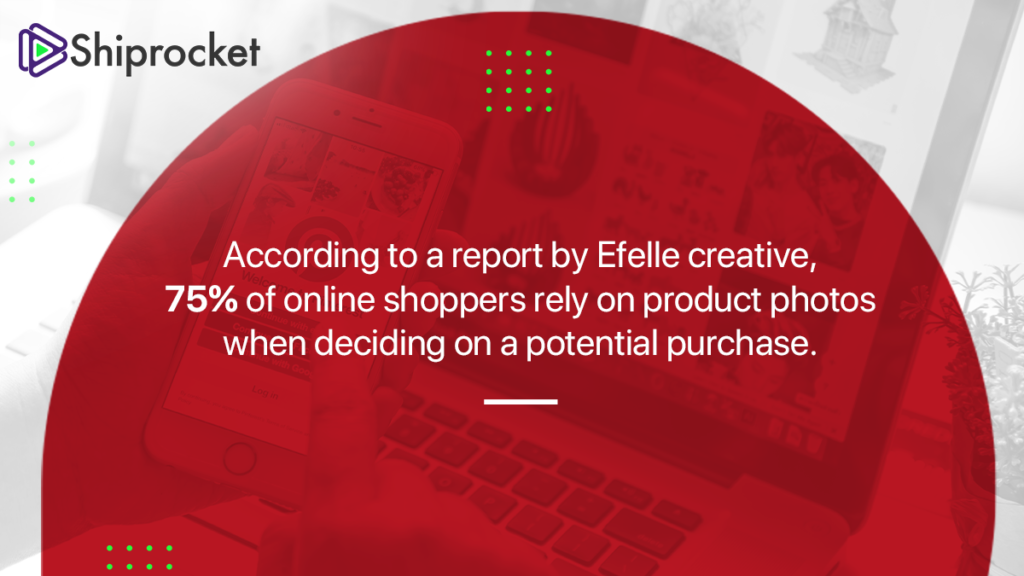 People who refer to Pinterest come looking for a whole idea. You can help them and, in the process, also guide them toward your product to complete the piece. It can be sufficient to influence your customer's purchase decision at the initial stages when they do not have a brand in their mind.
For example, if you sell skirts, you can utilize Pinterest to target customers who are looking for fashionable outfits for spring. You can show them complete looks that go well with your dress. This way, you will be using the platform to sell a skirt and also gain followers.
Over time, Pinterest marketing has become a technique to gain new customers for an eCommerce business. According to Pinterest statistics, 84% of their users use the app when trying to decide what to buy. This gives you market access to your products to millions of individuals who are still in the initial stages of their purchase journey. Their judgment is not clouded by the ideas of a brand or a particular product. Your Pinterest strategy needs to be in place to ensure that maximum users view your work and head to your website after that!
Best Practices for a Solid Pinterest eCommerce Strategy
Add a Business Account
If you want to use Pinterest for your business, you must create a business profile. To do so, create your account on Pinterest and click on the down arrow button in the top right corner and click on add a free business account.
Next, complete your business profile. Add details such as your business name, website, logo, etc.
In the next step, describe your business to get personalized recommendations for your account.
If you sell on platforms like Shopify, Magento, etc., click on Online retail. In the next step, you will be asked to select the store you sell on. You can choose the store and then decide if you want to advertise on Pinterest or not.
Once you have set up your initial profile, choose how you want to utilize Pinterest for your business. You can use Pinterest to showcase your brand, share ideas, or grow your audience. Choose the best option for your business for starters.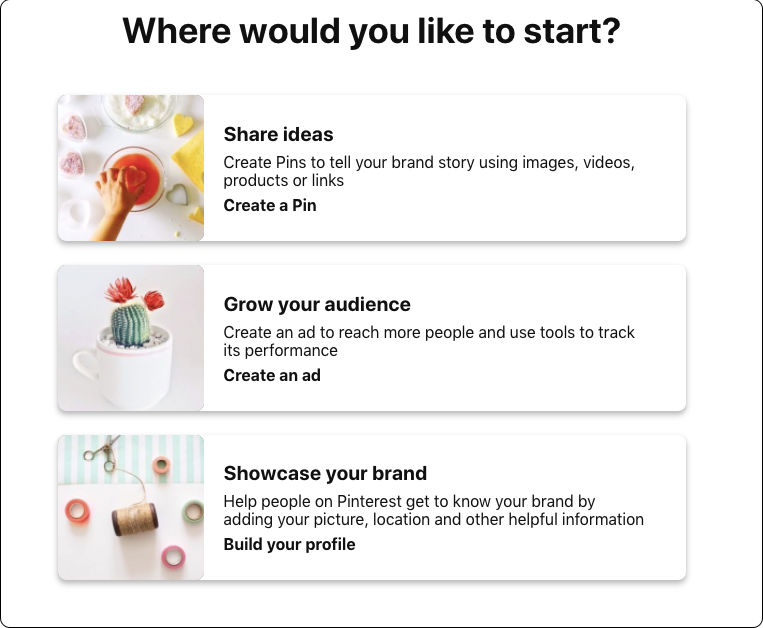 Optimize Your Business Profile
Next, it is necessary to optimize your profile with the correct and latest information. It must not be so that your profile information is not updated while continuously adding more about products. This can be misleading for your users as they might get confused when they head to your website for shopping.
Edit Profile
Once you successfully created your business profile, you will view it on the top right corner of the header.

Click on the profile section and click on edit profile. You will be taken to a page that contains all the details you have provided about the business.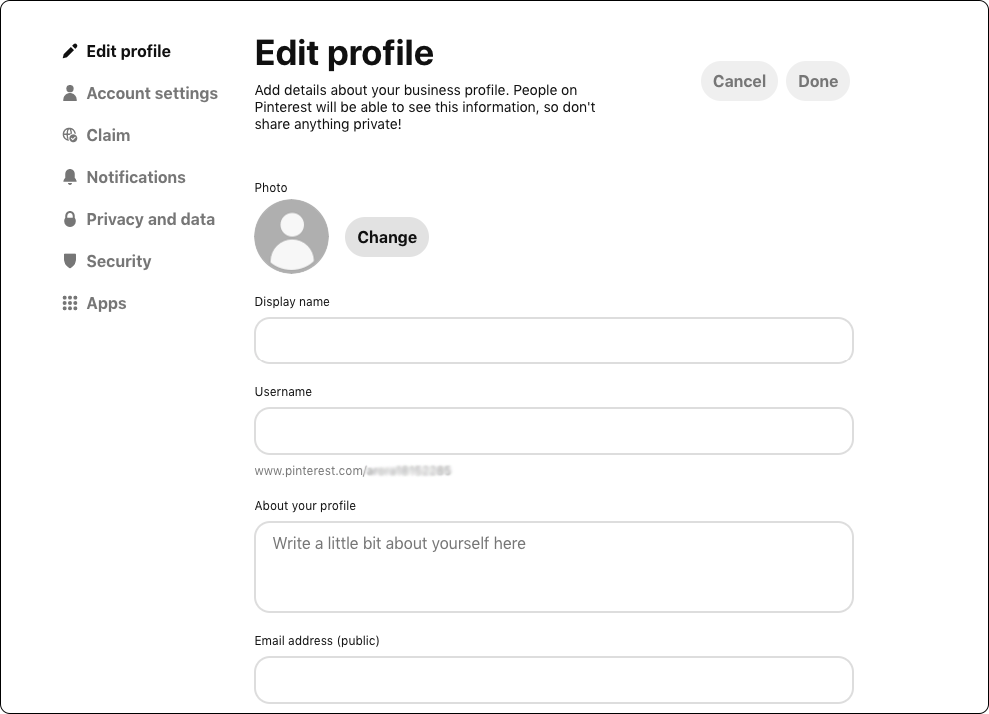 Here you can add all relevant information about your business. Keep in mind that this is the identity of your business, and it must be updated regularly. Use your brand's logo for increased visibility.
If you scroll down, you can also find a featured board section. Here, you can add specific boards with top-selling products or other useful information that you might have shared.
For example, if you see Nike's profile on Pinterest, you can check their featured boards right at the beginning.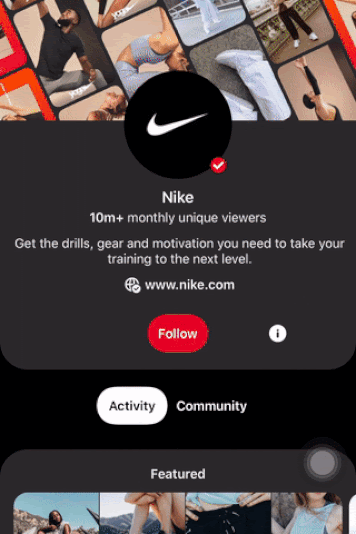 Add Claim
Another significant feature for your Pinterest profile is adding a claim.
Adding a claim on Pinterest can help you clean your website's domain so that nobody else can use it. Also, you get access to website analytics, and people can know where to find more of your products. Once you claim your website, the URL will be displayed on the profile page. This can help you increase visibility, and you can redirect more customers to your site.
To add a claim to your website, go to the claim section in the profile.

Next, enter your website URL and click on the claim. You will be prompted to choose an option between adding an HTML tag or uploading an HTML file. Select the most appropriate method for you.
How to Add Website Claim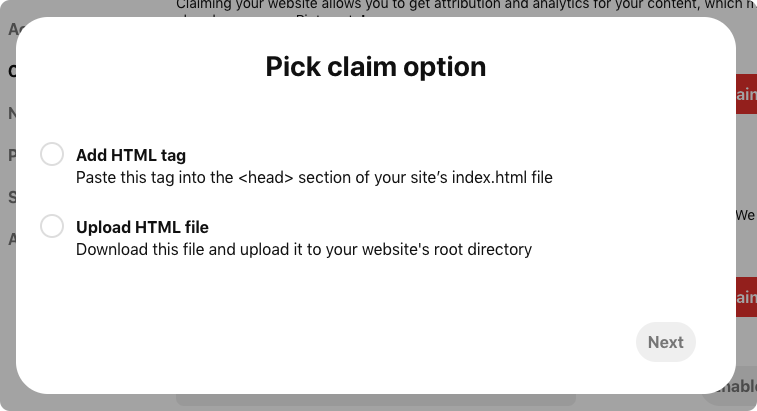 Add HTML tag
Copy the tag provided
Go to your websites' index.html file
Paste this in the <head> section
Come back to Pinterest and click on submit.
Uploading an HTML file
Download the HTML file provided
Upload it on your website's root directory
Come back to Pinterest and click on submit.
Similarly, you can also add a claim for your social media handles like Instagram, Youtube, etc.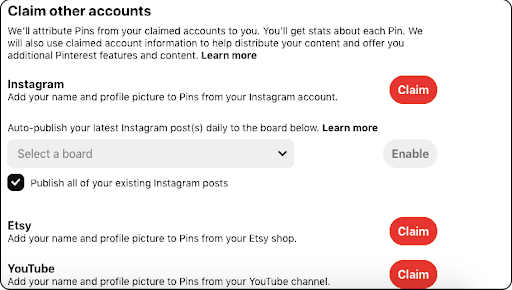 You can create a board specifically for your Instagram account and add images directly to your Pinterest account. This can help you share content across channels.
Use the Right Keywords
Once you have created your business profile on Pinterest, you need to start sharing pins. Sharing pins does not only refer to sharing images. You need to support these images with the correct information. Make sure you use the proper keywords in your title and description as people search Pinterest with specific keywords, and there is a chance of higher visibility only if you have the correct keywords in your text.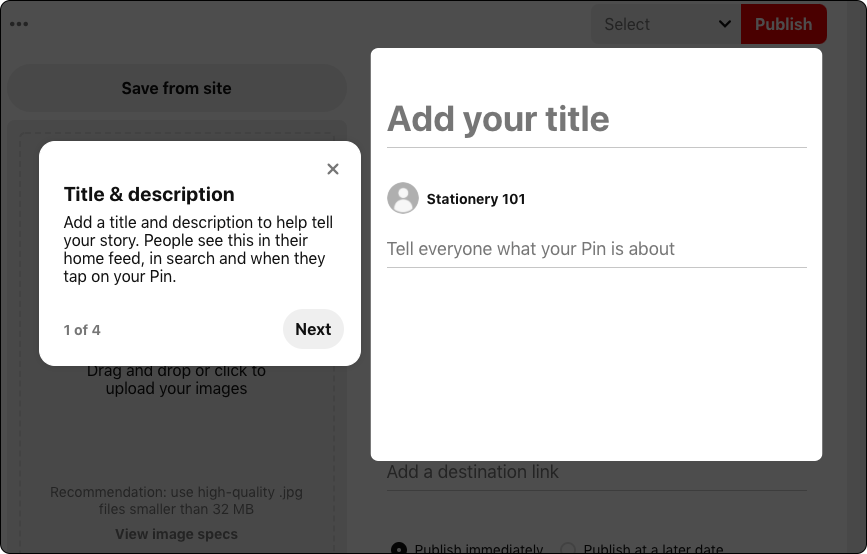 Redirect customers to Your Website
With every pain you share on your Pinterest account, you can add a destination link. Link the pins to the correct product pages so that the user lands on the right webpage. It can be very convenient to convert viewers into buyers as they are half convinced by scrolling through your profile. If they find a destination link, there is a higher chance that they will purchase it.
Use Boards for Different Categories
When you sell on your website, everything is organized into different product categories. The same strategy must be followed on Pinterest. The boards can be categorized on another basis. For example, if you sell home appliances, your panels can be organized into utility-specific boards like Kitchen, Bedroom, Bathroom, etc.
This will help buyers navigate easily and find their requirements quickly. Moreover, if your products are arranged into specific categories with the right keywords, you can easily rank higher in Pinterest search results.
Utilize Product Pins
Product pins are similar to regular pins. The only difference is that they contain the product's price, availability, title, and description.
If you use these pins, Your customers can shop much faster as they would have the information they require without one more step of clicking the destination league. Usually, when people like something, their impulse is to purchase the product or find the product somewhere online immediately. With product pins, you can place the product on a platter and serve it to them.
How to use product pins?
The product information in these pins is fetched from two sources. They could either be catalogs or Rich pins.
Catalogs – Here, you can easily upload a product feed or a product catalog.
Rich Pins – These refer to the saved pins added from an available source, such as an advertiser's website.
So, the main element for you is 'catalogs' as the products you want to pin are unique.
To get started with Catalogs, you need to have the following –
A Business account
A website claim
A data source like a product feed or catalog
Data source hosting where you can store this feed
How does it work?
You need to share this Product feed URL with Pinterest. They will validate the data transmitted by you and create a product pin for each item.
The data source can be in the form of an XML, TSV, or CSV file and must be hosted on an FTP/SFTP server or set up an HTTP/HTTPS direct download link.
Here are the requirements scanned by Pinterest –
id
title
description
link
image_link
price
availability
condition
Google_product_category
If these are missing from the data source, Pinterest will not convert the product into a pin.
Once you successfully add your data source and your product pins are attached to Pinterest, you sort them into categories. Buyers can directly shop from these pins by heading to your website and completing the purchase.
Different Types of Pinterest Pins
Product Pins
Product pins help businesses provide real-time information about pricing and product availability and drive online sales. Big as well as small businesses can use product pins. Also, if you have a Shopify-powered website, all the product pictures you pin will automatically become rich pins.
Recipe Pins
Recipe pins are related to recipe sites, restaurant sites, cooking blogs, and other food-related shopping sites. The pictures in these pins include ingredients, serving information, and cooking time.
Movie Pins
Movie pins are great for websites that discuss, review or promote movies and films. They include movie ratings, cast and crew information, and reviews to help Pinterest users learn more about released and upcoming movies. OTT platform Netflix even allows streaming – you can watch a movie right away through the pin.
Article Pins
Around 6 million articles are pinned on Pinterest every day. Articles pins include the article title, description, author name, and link to the article. This helps the Pinterest users find and save the store they like. Thus, users can read the articles later conveniently.
Place Pins
As the name suggests, place pins are about places and cities that people would love to visit. These pins are especially interesting for people who like to travel and explore new places. These pins include maps, directions, addresses, and phone numbers to the location.
Conclusion
Pinterest is a platform that has scope for a lot more innovation. If you use it wisely, you can give your business the push that it needs. There are millions of active users right now, and this number is only projected to grow in the future. Therefore, explore the possibilities the platform offers and use it to showcase your products in the best possible manner. Tell us your Pinterest handles in the comments section so we can come to say hi to you!
Calculate Your Shipping Costs Now