Top 10 Techniques To Sell Successfully On Amazon
The eCommerce marketplace giant Amazon is currently a gold mine for sellers. Their customer base is ever growing, and according to Statista, Amazon India had the highest eCommerce sales in India recently with an annual sale of USD 567 million.

Even though many sellers invest their resources in Amazon's marketplace, not many cuts because they are not acquainted with the tips and tricks of successfully scaling their online business. They either end up with decreased sales or lack of brand awareness. Hence, here are a few techniques to help you sell successfully on Amazon.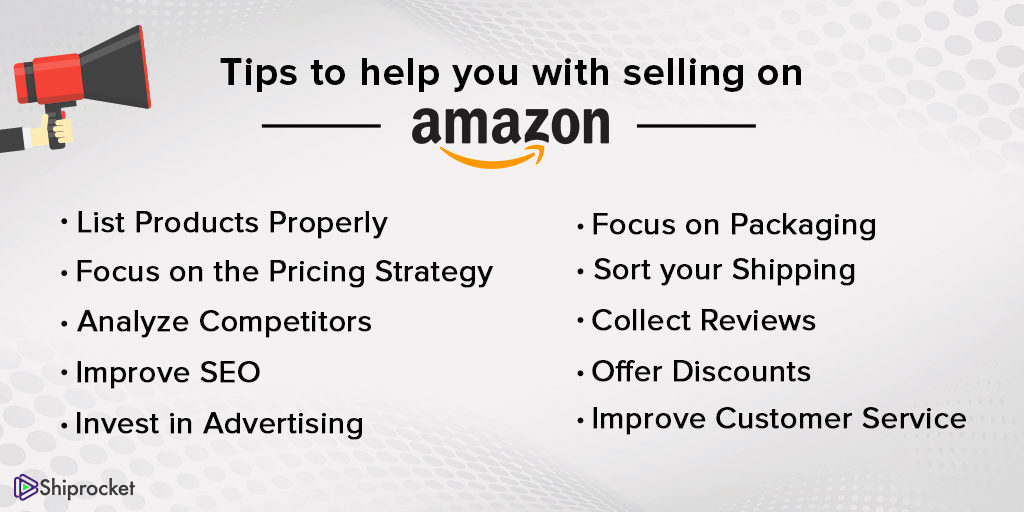 List Products Properly
Keeping in mind Amazon's search engine algorithm, add products to the correct categories and sub-categories. Use keywords to enrich your product listing. Furthermore, add products to more than one group if required. This way, you will increase your chances of appearing in searches and ultimately bring more people to your store.
Focus on the Pricing Strategy
This aspect plays a significant role as all your products will have some competition even if they belong to a niche. Therefore, study your competition carefully and analyze the trends correctly. Once you can value your product according to the pattern and what your competitors are offering, you can easily target your desired audience and promote your product aggressively.
Analyze Competitors
Don't take this step lightly. Analyzing your competition over intervals is necessary for your business. If you want your products to sell, you need to keep optimizing your marketing, pricing, promotional, and order fulfillment strategy. This kind of insight is only possible if you keep a check on your competitors and stay aligned with the recent advances and modifications taking place.

Improve SEO
SEO plays a significant role in improving the visibility of your product. Amazon is no longer just a marketplace; it is a search engine too. Therefore, align your strategy to make sure your products rank on Amazon's search. So, optimize the product descriptions for search terms and keywords, and don't forget to include good quality images with alt text. These small details will help you bring your product higher on people's search queries.
Invest in Advertising
Advertising is a vital tool for generating more leads and directing customers towards your store. You can utilize Amazon advertising to ensure your product reaches far and wide among audiences. You can choose from options such as sponsored products, sponsored brands, display ads, video ads, and creating your store. These ads have a wide reach and help you increase brand awareness. Other than Amazon, you can also choose to run ads on Facebook to remarket products to customers.
Focus on Packaging
Order fulfillment is as essential as product marketing. Therefore, ensure your order fulfillment chain is organized when your process your Amazon orders. Packaging forms the first visual impression of your brand. So it is essential that you focus on its safety and appeal. To make it personalized, you can also include notes, promotional discounts, or offers for their next purchase. This gives the buyer more reason to return and shop from your store.
Sort Your Shipping
Shipping plays a significant role in the final delivery experience of the buyer. Therefore, make sure that you decide your mode of shipping your products early on. Amazon offers you three options – Self Ship, Easy Ship, and FBA. FBA is the most expensive model as it includes all operations from storing to packaging to shipping. For new sellers, who aren't entirely aware of the frequency of their return orders, choosing to ship your orders via a shipping platform like Shiprocket will be a better option. This option is because it will allow you to manage return orders at your convenience, avoid cash on delivery payments, and ship across 26000+ pin codes through 15+ courier partners.
Collect Reviews
Most customers looking for products refer to product reviews for making their final decision. Therefore, ensure you collect as many reviews as possible from your buyers. You can also add a note in your packaging asking them to review the product on Amazon. More the number of authentic customer reviews, the higher the chances of attracting customers to your product as most buyers compare the reviews when they are confused between two products.
Offer Discounts
For all new sellers, try to offer promotional discounts to your customers. Once you provide these discounts, Amazon assumes this product is in demand, and it increases the chance of ranking the product higher in search results based on relevant keywords. Also, once you offer discounts, in the beginning, the chances of customers repeating their purchase also increase. It gets easier to convince customers to purchase a new product once you offer promotional discounts.
Improve Customer Service
Once you deliver your products, providing customer support becomes very important. Your customer relies on you for any help regarding the product. So, along with Amazon's support, provide your buyer with your contact too so they can directly contact you for any assistance. Also, make sure your products are appropriately labeled, packed, and shipped. These ensure a good delivery experience and make things easier on the customer's end too.
Final Thoughts
If you sell on Amazon or wish to do so, you need to be wary of the cut-throat competition that comes with it. Keep learning about new concepts and ideas to keep improving your strategy. If you follow the given techniques and work to improve your store and products, Amazon can be an extremely lucrative business for you! Thus, stay aware and ship to a vast Amazon audience.
Calculate Your Shipping Costs Now