The Direct to Consumer Starter Kit for eCommerce Sellers
Did you know that 55% of consumers prefer to buy directly from brands rather than multi-brand retailers? The purchase dynamic today is changing. With several small brands coming up, consumers prefer to buy directly from the seller's website rather than looking them up on Amazon and purchasing their material. This is known as direct-to-consumer eCommerce, where sellers sell to the end consumer through websites or social media without any middle entity like a marketplace.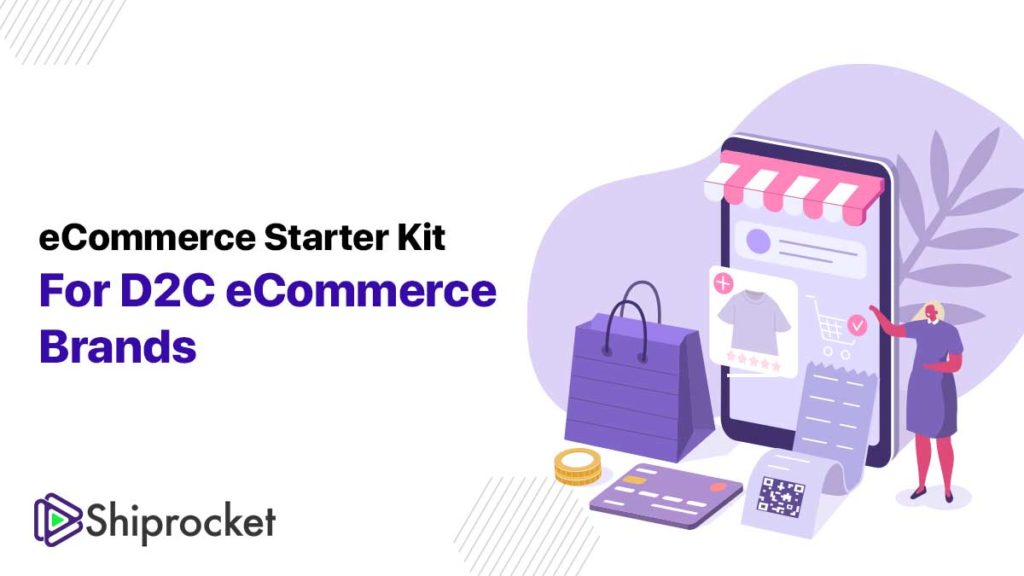 The D2C eCommerce model is picking up at a fast pace in India. With the advent of social commerce, numerous sellers are experimenting with the idea of eCommerce and reaching out far and wide to sell niche and authentic products. This is a new wave in the country's retail market. Let us look at how you can get started with your day to see a business with this simplified starter kit.
Scope of eCommerce in India
For sellers who are still contemplating whether they should start their direct-to-consumer business in India, the first question that comes to your mind is – is this eCommerce model even scalable in India?
The answer to that question is yes! The direct-to-consumer model has only picked up pace in India recently. With the advent of marketplaces like Amazon, Flipkart, etc., consumers have had their fair share of marketplaces and are now looking for more homegrown and national labels.
Especially with the recent campaign talking about being vocal for local brands, even the Indian government has set up several schemes to ensure that Indian brands can scale their business in India. This has given eCommerce the necessary push it wanted, and many new sellers are now exploring the realm of direct-to-consumer selling.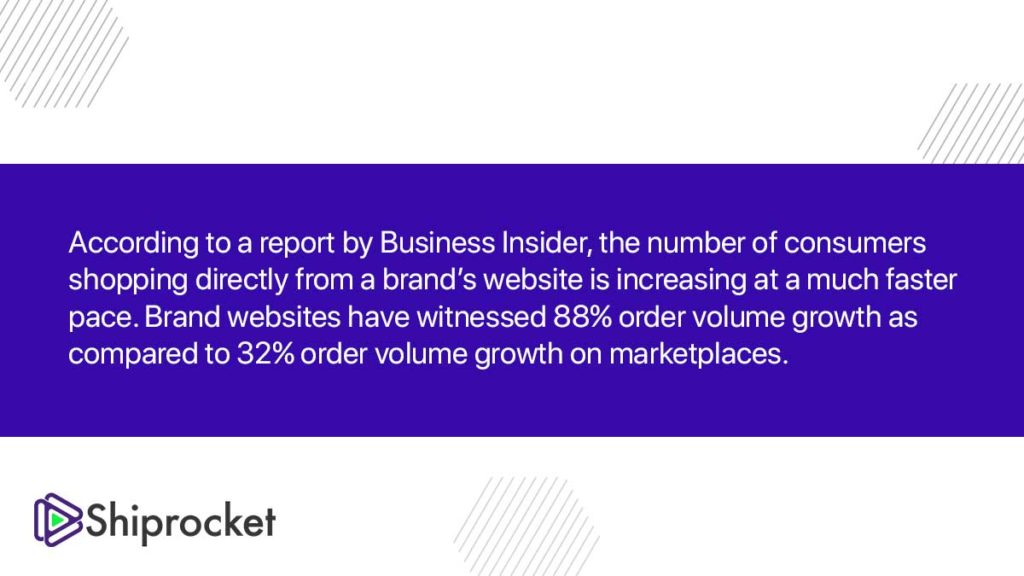 According to a Business Insider report, the number of consumers shopping directly from a brand's website is increasing at a much faster pace. Brand websites have witnessed 88% order volume growth compared to 32% order volume growth on marketplaces.
This shows that the D2C eCommerce model has immense potential in India, and if you are just starting, you must begin with selling directly to consumers. It is simple yet cost-effective.
How to Get Started With Your D2C eCommerce Business
Getting started with direct-to-consumer selling is relatively simple. You do not need a huge investment to set up your online business than traditional brick-and-mortar stores. Here are a few quick tips to get started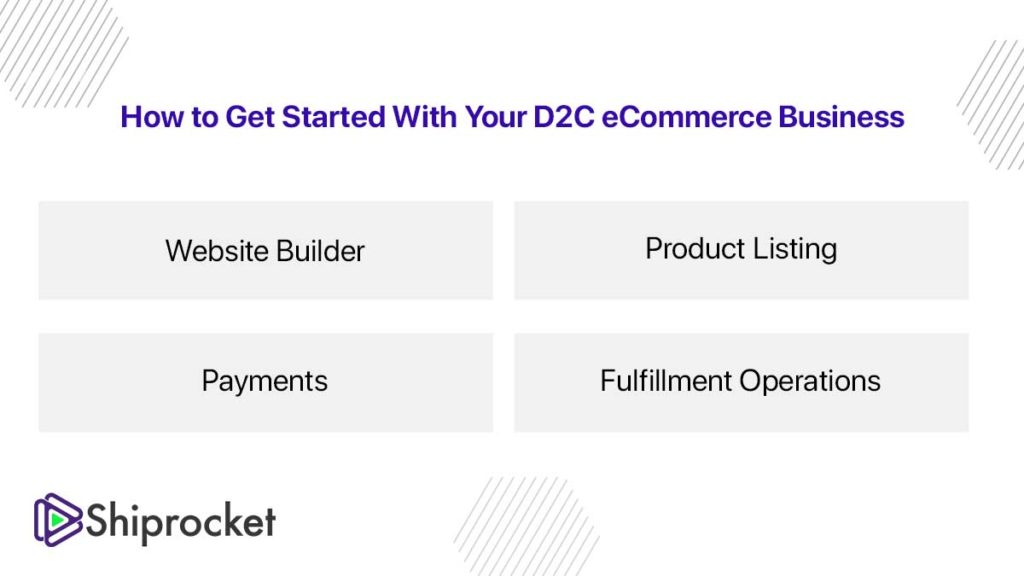 Website Builder
The first and foremost requirement for starting your D2C eCommerce business is an online store. This could be a website, a social media page, Facebook, or an Instagram shop. You must establish where your business is set up, so you have a definitive shop to promote to your buyers.
There are several website builders available online. If you are looking for a free website builder where you can aesthetically design and list your products, you must try Shiprocket social. Shiprocket social gives you a platform to create an open online store and have several other necessary features.
You can also start by listing your products on the Facebook and Instagram shops. This will help you engage and sell your products to your followers on these social media platforms.
Product Listing
The next step four setting up your direct-to-consumer shop online, is listing your products. Once you segregate your inventory and divide your products into separate categories, list these categories online and keep adding products to them. Ensure that every product has an individual product page containing an appropriate description, product image, return policy, and shipping policy.
Listing your products correctly is extremely important as it makes your website sorted and improves the ranking on search engines.
Payments
The next aspect of your store is collecting payments. There are several payment modes that you can offer to your customers. These include payment by cash, cards, net banking, UPI payment, payment via wallets, etc. however, each of these payment methods must be secure end to end so that there is no breach or fraud.
In India, buyers are still getting used to online payments. Therefore, you must choose a payment gateway that offers you a secure payment platform to ensure hassle-free payment collection from your customers. Also, its transaction fee must not be very high.
Fulfillment Operations
Once you have sorted out your online website, listed your products, and figured out payments, it is now time to accept orders. Is it possible to take orders if you cannot deliver them on time to your customers? This is where the role of fulfillment comes into the picture.
Before you take your website live and start promoting your product to your customer, settle every confusion related to fulfillment so that you can process your incoming orders with ease.
eCommerce fulfillment involves several steps. Here are how you can prepare for them.
Order Management
Try to adopt a centralized order management system so you can Receive orders from all your sales channels in one place. Even though you are just starting, you might be selling on separate platforms like a social media store or a website. An order management solution will help you organize your incoming orders and sync them with your master inventory to forecast sales better, manage orders faster, and deliver them quickly.
Inventory Management
The next and the most crucial step of fulfillment is inventory management. Just like order management, inventory management must be centralized so that you can synchronize all operations and maintain harmony for your incoming and outgoing orders. If inventory management is not handled appropriately, you might have to face the problem of inventory stock-outs where your products will be out of stock even when they are listed on your website. This will lead to delays and other operational issues.
Packaging
The next step involved in fulfillment is the packaging. The packaging is representative of your brand. How well you pack your product tells the consumer how concerned you were about his shipment reaching safely. Therefore, use the best quality packaging material and hire experts to package your products. You can also experiment with packaging inserts and customized packaging if you have the budget. If you are just starting, packaging inserts can be a great way to re-engage with your customers and ask them to come back to your website. Good packaging stays with the customer longer than the product also. It is the first impression of your brand, and it must speak volumes.
Try Shiprocket packaging to get sufficient quality packaging material like corrugated play boxes and courier bags at the most reasonable prices. It is excellent if you want to store packaging in advance before you start.
Shipping
The next essential aspect of a fulfillment supply chain is shipping. Shipping determines how well your product reaches your customer. Therefore, tie-up with the shipping solution gives you access to multiple courier partners and a white pin code coverage. This will not limit serviceable areas, and you will be able to manage your deliveries seamlessly.
Shiprocket is an excellent option if you are looking to start your business with a reliable shipping solution. With Shiprocket, you can also ship with security as you get an insurance cover up to Rs.5000. Moreover, you get COD and prepaid delivery options that give you unlimited choices for your website.
Order Tracking
Consumers complain about the lack of order tracking details. Once customers place their order, they prefer to know the whereabouts to keep a close eye on the delivery. If you do not provide good order tracking details like the estimated delivery date, movement of the package, etc., your customers will be disappointed.
Ensure that the shipping solution or courier partner you tie-up with gives you a platform for order tracking as well. Otherwise, tie-up with an order tracking system to send out regular tracking updates to your customers. These updates must include the estimated delivery date, parcel location, order details, contact details, support details, etc.
Shiprocket offers you a chance to provide your customers with customizable tracking pages that contain your brand's logo, support details, marketing banners, and other essential elements.
Return Order Management
The next important aspect that usually takes sellers by surprise is return order management. There can be many situations where the customer does not accept the product or is dissatisfied with it. If you like it or not, you have to arrange for returns in such cases. If not thought of before, returns can cost twice as much as shipping. Therefore, before you tie-up with any courier or shipping solution, ensure that you settle down on the return order rates so that you can process returns without any extra charges.
At Shiprocket, returns are 10 to 15% cheaper as compared to forward orders.
Marketing
Now that your direct-to-consumer website is prepared, payment is sorted, and your fulfillment is in place, the next step is promoting your store. To increase sales and attract new customers, it is essential to spread the word. Here are some inexpensive and simple ways to start marketing your D2C store.
Social Media
New or old, it is essential to have a social media presence today. With more than 3 million active users, Facebook is one of the most famous social media platforms. If you are not selling on Facebook, it does not mean that you do not need to market it there. Create a Facebook page, join Facebook groups, and get out the word about your store. If appropriately dealt with, Facebook can turn out to be one of the most grossing channels for your store. Based on your target audience, promote it on other channels like Instagram, Pinterest, and Twitter.
Promotional Offers
Another way to market your store is with promotional offers. Run unique campaigns offering discounts to your customers and give them incentives to sign up and shop from your store. This will help you engage with them actively, and more customers will make purchases from your store.
Content Marketing
Start a blog and begin curating it much before you launch your website. This will help you gain search engine traction even before you launch, and once you do, you will be able to reach your customer's screens much faster. Can share common queries and tips and tricks on your blogs to help your customers and interact with them regularly.
Email Marketing
There are several tools out there that can help you send free emails to a bunch of customers. Emails can be extremely personalized as they reach directly to the customer's inbox. The chances of a prospect converting via emails are much higher than any other marketing channel. Therefore, invest time in writing intelligent and engaging emails to ensure that your customers come back to your store repeatedly.
Conclusion
The D2C market is ripe in India. It is an excellent time if you want to sell directly to consumers. Just ensure that the product you choose is niche and adds value to the customer's lives. With this starter kit, you will be able to set up your business quickly and start selling immediately.
Calculate Your Shipping Costs Now